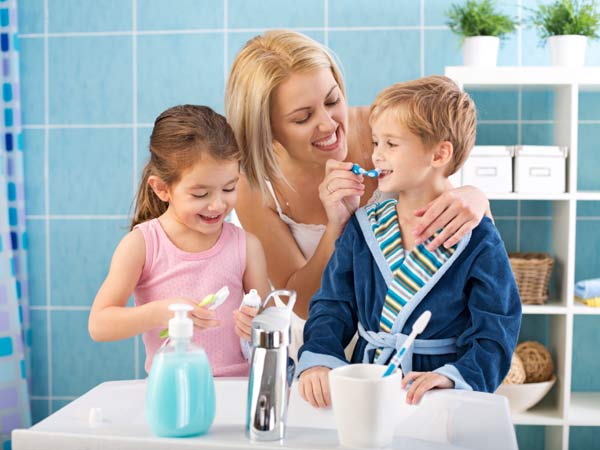 What does it take to build a healthy smile?
You have so many good reasons to keep your family's teeth and gums healthy.  A healthy smile avoids toothaches and discomfort, gum disease, and decreases your risk of other problems in the body such as heart disease.
Fortunately there are simple ways to keep your teeth healthy and strong.
Start Early.  One in four children develop signs of tooth decay before they start school.  Half of all children between the ages of 12 and 15 have cavities.  Dental care should begin as soon as a child's first tooth appears.  Teeth can be wiped with a clean, damp cloth or very soft brush.  As your children get older and begin to brush their own teeth, remember it is important to supervise.
Seal Off Trouble.  Permanent molars come in around age 6.  Thin protective coatings applied to the chewing surfaces of the back teeth can prevent decay in the pits and fissures.  According to the Centers for Disease Control and Prevention, sealants can significantly reduce caries.
Brush Twice a Day.  Gum disease and tooth decay remain big problems – and not just for older people.  Three-fourths of teenagers have gums that bleed.  Remember it is important to change your toothbrush 3 to 4 times a year, take special care (and a little extra time) if you have braces to clean thoroughly between the brackets, if you find it hard to hold a toothbrush due to arthritis or other medical conditions, try using an electric toothbrush.
Block Blows to Teeth.  Sports and recreational activities build healthy bodies, but they can pose a threat to teeth.  Other recreational activities such as skate-boarding and roller-blading can also result in injuries.  See your dentist about getting a custom-fitted mouthguard.
Don't Smoke or use Smokeless Tobacco.  Tobacco stains teeth and significantly increases the risk of gum disease and oral cancer.  If you smoke or use chewing tobacco, consider quitting and counsel your kids not to start.
Eat Smart.  A healthy diet is essential to healthy teeth and gums.  Limit sugary and acidic foods such as soft drinks, sports drinks and sticky candies to minimize erosion of tooth enamel.
Make an Appointment. It is recommended to have a dental check-up every 6 months – more often if you have problems like gum disease.  During a routine exam, your dentist removes plaque build-up that you can't brush away, and look for signs of decay.  A routine exam can also detect early signs of cancer, gum disease and detect damage due to grinding.
February is National Children's Dental Health Month.  Help your children learn what it takes to become a smile builder!  Together you can have beautiful healthy smiles!
Leave a reply →