Here at Favero Family Dental we make every effort to maintain an efficient and effective schedule.  We pride ourselves with being on time and prepared for your scheduled appointment.   Where appropriate, we schedule longer appointments to accommodate needed dental treatment in one visit.  We feel this will cause minimal disruption to your daily schedule and will provide efficiency in completing your dental care.  We understand that emergencies and unforeseen treatment problems may arise, causing schedule changes.  We always try our best to ensure these circumstances do not inconvenience other patients and we appreciate your understanding of those situations.
As a courtesy, our office calls to confirm your appointment the day before it is scheduled (we call on Friday for Saturday and Monday appointments).  If you cannot make an appointment as scheduled, please notify our office 24 hours in advance.  There will be  a $50 fee for a cancellation or no-show appointment without proper notification.
If you have any questions about our appointment cancellation policy, please feel free to ask us.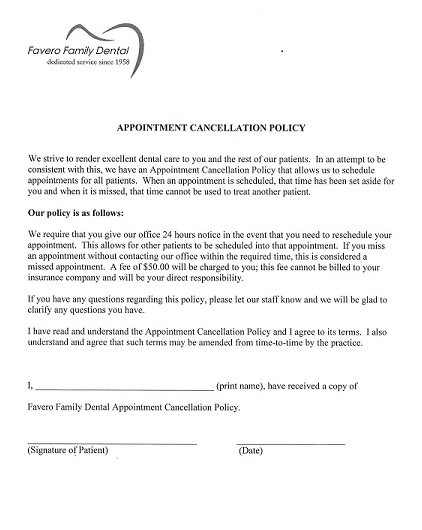 Leave a reply →