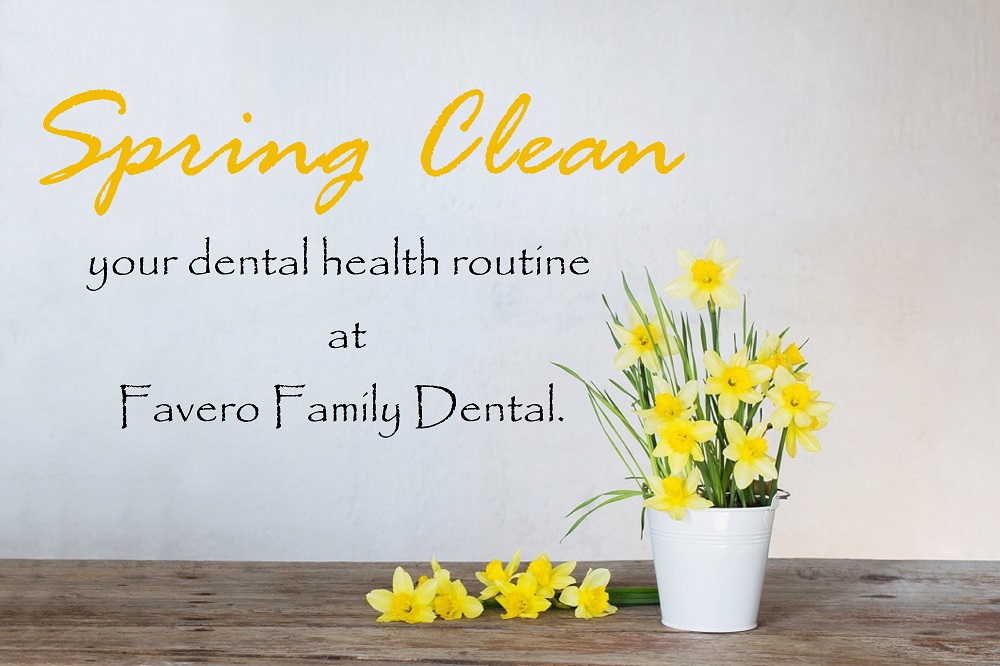 Spring.
Nothing marks this change of season like a good spring cleaning.  While you are busy organizing your closets and dusting off the cobwebs, consider sprucing up your dental hygiene routine as well.
Here are a few tips to "spring clean" your dental routine so your smile is healthy, vibrant, and ready for the new season!
Tip #1 – Update Your Toothbrush
With winter on its way out, it's time to take a look at your toothbrush.  It is recommended that you get a new toothbrush every three to four months (or sooner if the bristles are frayed or you have been ill).  As bristles wear down, so does the effectiveness of your toothbrush.  Even worse, bacteria and other germs can thrive among the bristles.   Additionally:
Never share your toothbrush
Store toothbrushes upright if possible so they can air-dry faster after use
Rinse your brush thoroughly with water after use
Consider softer bristles to help minimize the loss of enamel and receding gums
Tip #2 – Clean Your Toothbrush Holder
The container you keep your toothbrush in is exposed to all the same germs and bacteria as your other bathroom surfaces.  Don't put your new toothbrush into the old container until you clean it thoroughly.  Wash it in warm, soapy water, wipe it down with a disinfectant wipe, or run it through the dishwasher once or twice a week to keep your toothbrush and your mouth clean.
Tip #3 – Check Expiration Dates and Re-stock Supplies
Just as you check expiration dates on food when cleaning out the fridge, it is equally important to remember that your dental care products have expiration dates too.  Take a look at your mouthwash and toothpaste, and toss anything that has surpassed the expiration dates.  This is also a good opportunity to re-stock your supplies or switch up your products and try something new.
Tip #4 – Set Up an Actual Spring Cleaning
When was your last dental check up?  Seeing your dentist regularly is a good way to spot – and stop – small problems before they become bigger, more expensive and painful.   It also gives you a chance to ask your dentist about concerns and get advice on your daily cleaning habits.  If you can't remember the last time you got a check-up, it's time to make that call.
If your dental routine has suffered, now is the perfect time to get things back on track to help you enjoy a healthy smile all season long.
Leave a reply →