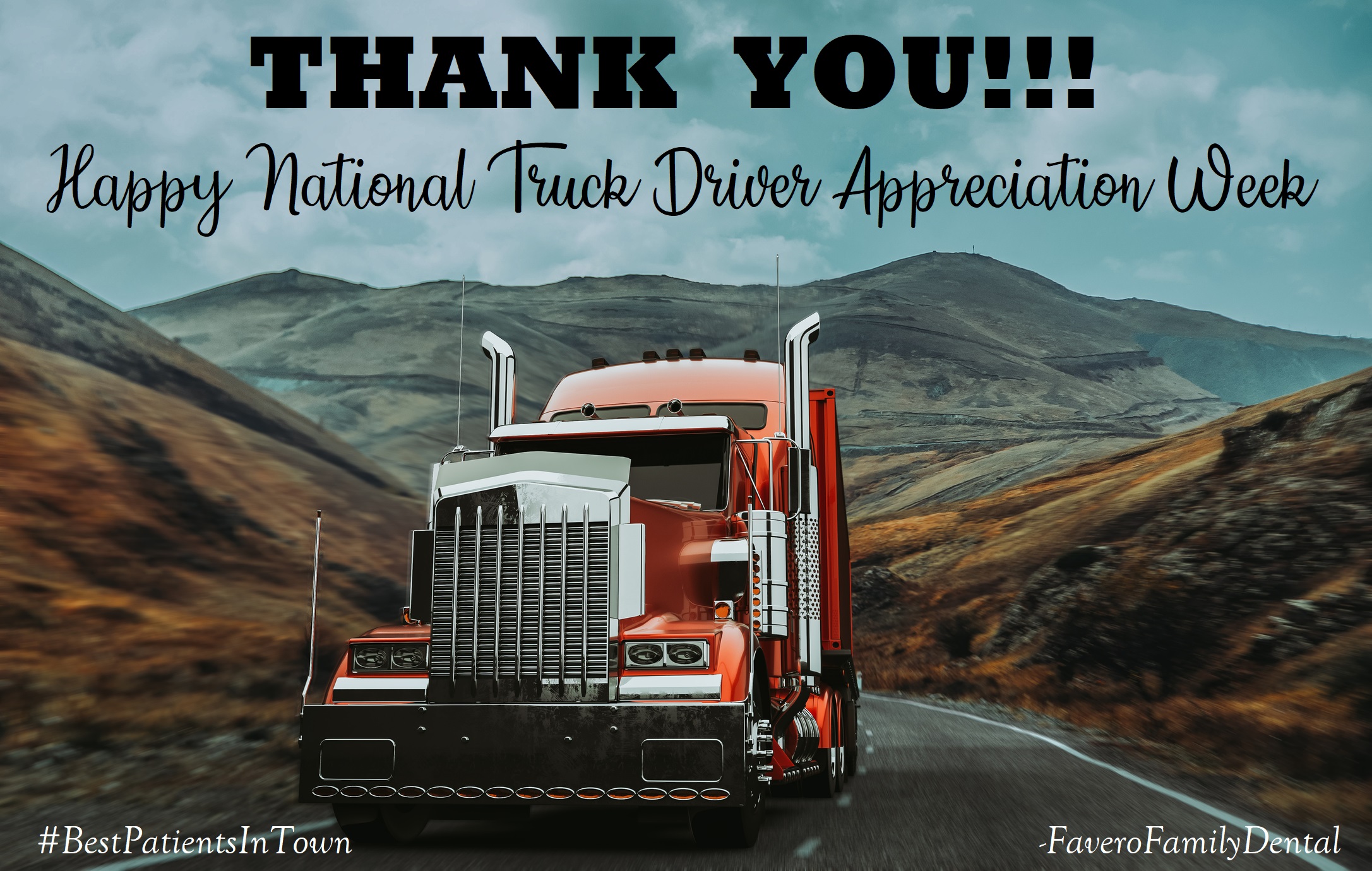 With much appreciation to our patients who represent America's professional truck drivers and their hard work and commitment to one of our country's most demanding and important jobs.
Thank you for keeping this country moving!
The industry association says there are 3.5 million people employed as drivers as of 2015. The most recent BLS stats show 1 million (about 950,000).
Truck drivers have been around since the end of the 19th Century. Alexander Winton invented the semi-trailer in Cleveland in 1898. He was an automobile manufacturer who developed the trailer truck as a way to deliver his cars.
Did You Know?
Truckers deliver about 10 billion tons of freight, or about 70 percent of all the freight moved in the U.S.
The average trucker will drive over 100,000 road miles per year. That works out to nearly 40 trips across the United States.
The average age of a truck driver is 49.
About 6% of the nation's truck drivers are women. The number is trending upward about 10% a year.
41% of the nation's truck drivers are minorities – compared to 22% in all other jobs.
Walmart runs one of the largest staff of truckers. The company maintains one of the largest fleet of trucks in the nation and employs 8,600 drivers who earn $88,000/ year according to a CBS News story.
Truck drivers can have many talents. These truckers went on to be actors:

Sean Connery, Elvis Presley, Charles Bronson, Viggo Mortensen, Liam Neeson, James Cameron, Chevy Chase, Rock Hudson.

A survey by Atlas Van Lines found truck drivers are big country western music fans. Nearly half of the truckers on the road listen to country-western music. One third listen to classic rock, and the rest listen to sports or talk radio.
The career field remains open for more heavy and tractor-trailer drivers. The BLS estimates 108,400 more will be needed by 2026. Their median pay is about $43,680 per year.
The career field for Light Truck and Delivery Truck Drivers is expected to grow more slowly. The BLS predicts bout 55,000 light truck and delivery drivers will be needed by 2026. Their median pay is $30,500 per year.
HOW TO OBSERVE #NTDAW
This week truck stops, trucking industry organizations and others show their appreciation for drivers. They will be offering deals and recognizing truckers for their hard work. Know a trucker? Sending a simple thank you card.
On the road with kids? If they see a truck driver and use the arm-pull signal as though pulling the air horn cord, don't be surprised if the trucker blasts his horn.
Leave a reply →