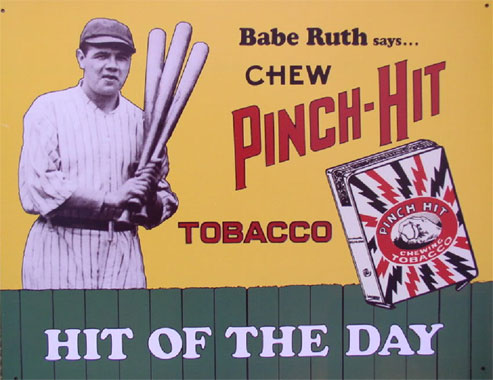 The sequence when Red Sox slugger David Ortiz walks to home plate has been the same for years now.

Big Papi tucks his bat under his right arm, spits into the palm of his batting glove, and slaps his hands together before staring out at the pitcher.

But there's one aspect of the routine that Ortiz wishes he could stop: the need to have a pinch of tobacco in his right cheek.  It's a habit he picked up in the minor leagues and can't break.

"I use it as a stimulator when I go to hit," Ortiz said. "But the minute I finish my at-bat I spit it out. It keeps me smooth and puts me in a good mood. I don't do it in the offseason. I don't really like it that much, to be honest with you." (1)
History shows that tobacco use has played a monumental role within the sports industry.  The connection between sports and tobacco can be traced back to the origins of professional sports.  Shortly after the National Baseball Leagues inception in 1876, trading cards with player's images emerged within cigarette packages.  From the 1920s to 1940s baseball furthered its relation with tobacco. Every major league team had a cigarette sponsor and baseball's greatest athletes such as Babe Ruth, Joe DiMaggio and Ted Williams, all appeared in cigarette advertisements. (2)
Smoking caught up with the game starting in the 1950′s. When baseball games first went on TV, cigarette ads became prime features. In New York, team loyalties could be told by the brand of cigarette a fan smoked.  But, in the 1970′s, when the dangers of smoking became clear, many players went back to chewing–thinking it was safer than cigarettes. Supplying free samples to major league, minor league, and college teams and recruiting players to appear in ads were part of the tobacco companies' all-out ad campaign.
Now the word is out–smokeless tobacco is NOT a safe alternative to cigarettes. It can cause addiction, serious mouth problems, and oral cancer. In 1987, warning labels went on the cans and pouches. In 1988, many clubs banned free samples from the clubhouse. In 1990, Major League Baseball issued a report on the hazards of smokeless tobacco and announced new efforts to help today's players beat the habit and to help prevent the next generation from getting hooked.  In 2012, an agreement between Major League Baseball (MLB) and the Major League Baseball Players Association placed limits on smokeless tobacco use.  This is an historic first step to protect the health of big-league players and millions of young fans who look up to them.  According to the agreement, big-league players, managers and coaches will no longer be able to carry a tobacco tin or package in their uniforms at games, or any time that fans are in the ballpark.  They will be prohibited from using smokeless tobacco during televised interviews, at autograph signings and other events where they meet fans, or at team-sponsored appearances.  Today, 36 percent of minor league baseball (MiLB) athletes reported initiating smokeless tobacco use after entering the MLB-MiLB system.
The harmful oral effects of tobacco products are well known, with approximately 20 percent of deaths in the U.S. resulting from tobacco use.  Research demonstrates a clear association between smokeless tobacco use and adverse health effects such as oral leukoplakia (a white plaque-like patch that cannot be rubbed off), oral lesions, gingival recession, and oral cancer.
Recently, a study was conducted to estimate the frequency of smokeless tobacco use and determine the presence of oral lesions in major league baseball athletes.  Data was collected at the training facilities of two MLB teams.  Four hundred and forty-one participants (athletes and staff) were examined during their annual preseason physical examination.  Overall, 36.2 percent of participants self-reported use of smokeless tobacco.  Lesions were found in 42 (9.5 percent) participants.  Of those with lesions, 61.9 percent were smokeless tobacco users. (3)
As smokeless tobacco use remains a distinct part of baseball culture, evidence-based solutions are required not only to alter this unhealthy behavior but also to understand its implications.  While these studies are a small start, it is a hit in the right direction.
Leave a reply →