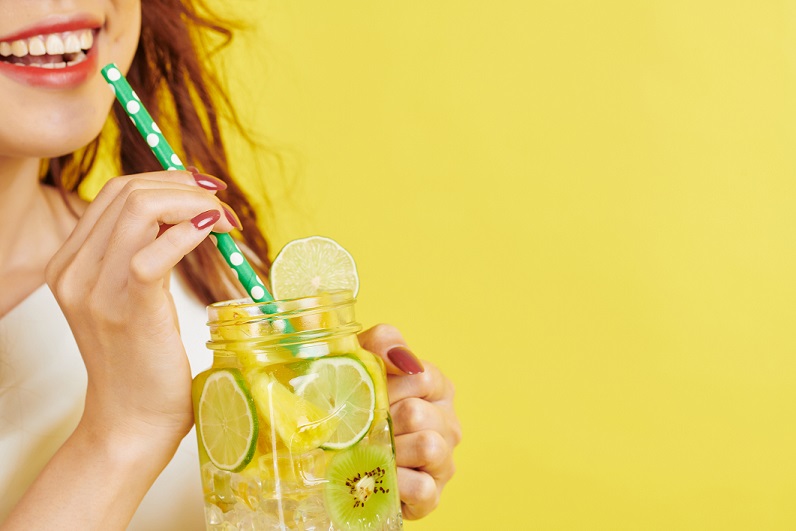 You work hard for your health – whether it is watching what you eat or getting enough movement and exercise into your already busy day.  Your oral health plays an important part in your overall well-being too.  This makes maintaining healthy teeth equally important as maintaining a healthy diet.
One key to having a healthy smile is drinking non-water beverages in moderation.  While we work to cut down on soda and juice, straws can help curb how much acid or sugar comes in contact with your teeth.
Stains, Decay and Erosion
The enamel on our teeth has pores.  That means that our favorite dark drinks like fruit juice, soda and cocktails or wine can cause staining.  Drinking through a straw can allow the beverage to make less contact with teeth, decreasing the chance of discoloration.
The bacteria in your mouth use sugar to cause tooth decay, which can lead to cavities.  Using a straw can decrease how often those sugars touch the teeth, potentially curbing the risk of decay and cavities.
Smile Tips
To help protect your teeth, place the tip of the straw behind your teeth and tongue.  This directs the liquid to the back of your mouth, preventing contact with enamel.
Drink a glass of water after you finish a sugary or acidic beverage to rinse teeth and promote salivation.
After rinsing, wait at least 30 minutes before you brush.  Brushing your teeth when acidic substances are on top can scrub the enamel right off your teeth!
Talk to your dentist today about other ways to protect your teeth.
Leave a reply →